perfect gift scarf in two hours
1 skein Lion Brand Chenille "Thick & Quick" (my scarf used color #178 Basil)
Size 11 straight needles

Cast on 13 stitches.
Work in knit one purl one for entire piece. This means that when you turn your work you will knit the purl stitches and purl the knit stitches.
Cast off loosely.

Observe the wonder on your friends' faces as they see half a scarf completed during the course of lunch. Warning: be prepared for said friends to lay claim to half completed scarf!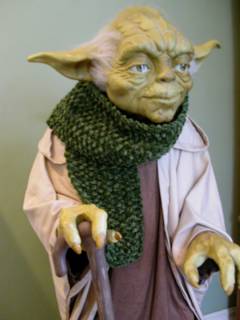 Yoda models scarf