aran continued
You know what's painful? Knitting for an hour and completing exactly one row, then having to rip that row and several other along with it out for a second time. Uhg. Just when I was congratulating myself yesterday that I hadn't made a huge error since that second, fateful row 24 waaay back there. So, naturally, that was when I made my mistake, or rather, when I thought I'd made my mistake.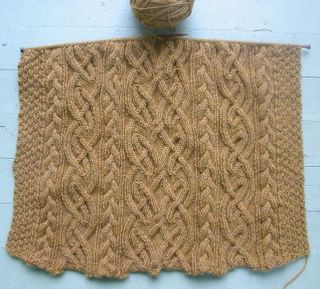 I glanced (this word can not be emphasized enough) at my row notes when I picked up my knitting to continue after I got home from work. I noticed that I'd made a mistake during my lunchtime knitting by cabling the 8 row cable when I shouldn't have. I ripped back the work and reknit it. Later, I picked up my row notes again and realized that I had indeed knitted it correctly the first time and that it was the rip and repeat without the cable that was the mistake. Did I mention that this was three rows back? Both times? So I had to rip out and reknit what I had already knitted correctly the first time, wrongly the second time, to end up with the correct pattern the third time. Ugh.

On a more positive note I am thoroughly enjoying this pattern. Alice Starmore must have genius in her noodle because this St. Brigid is heaps of fun. Try it, you'll like it.