wool wine
Let me just tell you folks how much I am loving this Regia sock yarn. It is easy on the fingers, is very soft, is very prettily striped, and hasn't given me any problems at all. I'm about an inch away from starting the heel and am looking forward to working on them over the three day weekend. Yippee! I'm looking forward to using this yarn again sometime.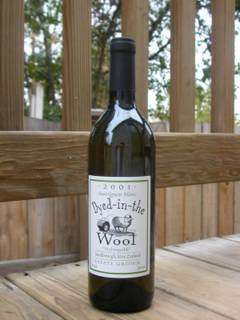 dyed-in-the wool wine

While out shopping a couple of weeks ago I ran across this Dyed-in-the Wool Wine and I could not leave the store without it. It is a 2001 Sauvignon Blanc from Marlborough, New Zealand. I'm more of a merlot girl myself but this little sheep just followed me home. I haven't had the opportunity to crack that baby open yet. Have any of my blog readers tried it and are willing to give a wine review?