Stitch 'n Bitch Nation Giveaway Contest
I find myself with an extra copy of "Stitch 'N Bitch Nation" by Debbie Stoller that I'm offering up in an online contest. You could win this book by suggesting a knitting project for my souvenir yarn.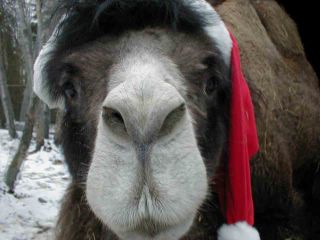 While on honeymoon in Alaska I met Boris and Tula, two Bactrian camels, who gave me these two skeins of their yarn. Boris and Tula live at the Alaska Zoo in Anchorage. I simply could not pass up this yarn when I spied it in the gift shop and it's probably my favorite souvenir. I'd like to knit something really groovy from this yarn that will remind me of my honeymoon.
Each skein is approximately 75 yards and is 77% camel hair and 23% wool. I wouldn't mind mixing it with another yarn if anyone has any suggestions about that as well.
Please pick your best idea and add it as a comment on this blog entry. Winner of the Stitch 'n Bitch Nation Giveaway Contest will be selected at random from all entries on Monday, February 28th.
"You should only buy yarn from camels that you know!"